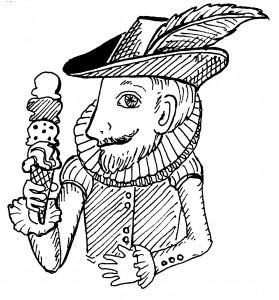 Here is a list of our favorite seasonal places to get ice cream and gelato.
Moxie's Ice Cream–1344 Spring Ave., Wynantskill, 283-4901 This place is really not that far out of Troy, but it feels like another world. Just go down Pawling Ave. and take a left on Spring St. Moxie's is just a few miles down the road on the left, and definitely worth the trip. This is a family run business, here for more than 40 years. And yes there really is a Moxie, and yes he knows how to make delicious ice cream. His daughter, Miss PAM, has been running the stand for the last 8 years. The ice cream is rich (15% milk fat) and the flavors are numerous.    They close for the season when the ice cream runs out, usually late August.
Kurver Kreme– 1349 Central Ave., Albany 459-4120 This has been a local favorite forever. Their soft serve is good, although on a hot day it will melt before you reach your car. The plus here, is the variety of flavors and range of sizes and prices. They have a kiddie cone that is just the right size and cheap!
Wholly Cow– 1836 Columbia Tpke., Schodack, Junction of Rtes. 9 and 20. This place has creamy, thick soft serve with a great taste. The flavors are just the basics, but all good. Big cones that hold up in the summer heat. BBQ too!
Guptill's Coney Express– 1085 New Loudon Road (Rte. 9), Cohoes 785-0660. The best thing about this place is that they usually open weeks before anybody else, so when you are desperately craving that first ice cream cone of the season, you can get it here. Good , creamy soft serve, hard pack in a multitude of flavors. And next to the roller rink if you need some fun exercise to work off those delicious calories.
The Peanut Principle– 1158 New Loudon Road, Cohoes 783-8239. In season ice cream stand, but their shakes are the thing to come here for. Really good.
The Snowman– 531 5th Ave., Troy  233-1714. OK, this is one of our favorites, mostly because of their weird snowman logo, but their tasty ice cream is home made and includes their own version of Blue Moon. Their soft serve is smooth and thick. Although the parking lot doesn't offer the best ambience, you can walk down to the river near Melville's house and really enjoy your ice cream.
On the Farm– 273 Troy-Schenectady Rd., Latham, 785-9930. This has been a Latham summertime fixture for more than 23 years. They serve great soft serve in the basic varieties, with one special thrown in every couple of weeks. They serve Edy's hard pack if you're not into the soft serve. They have a lunch and dinner take out menu ( hamburgers, fish fry, French fries etc.) which is pretty good as well. Plenty of picnic tables. In late Nov. they sell Christmas trees here.
Crisan– 197 Lark St., Albany 445-2727. This has been another great addition to the downtown. Wonderful gelato to savor by the cupful and one of the best selections of pastries to go along with it.
Emack & Bolio's–366 Delaware Ave., Albany 512-5100 This great place for ice cream opened for the summer 2008 serving not only really creamy, delicious ice cream in 20 flavors (not all vegetarian- ask first), but wonderful brownies, cookies and a selection of chocolates. Great location on Delaware, near the Spectrum Theatres. (On the infrared side.)
Gelateria Lisa – 7 Hill St. in Troy's Little Italy  883-6778. If you are missing "A Cone of Our Own" in Albany, these folks make some pretty delicious gelato as well. We've been working our way through all of the flavors and so far they are all fabulous.
Java Jazz Cafe– 318 Delaware Ave., Delmar, 439-1727.   Specializing in local and organic products..
Stewart's Shops– All over. Yes, we're including Stewart's because their ice cream is actually good, available all year long, inexpensive and everywhere. They even give it away on St. Patrick's Day if you wear green.
Toll Gate Ice Cream – 1569 New Scotland Road, Slingerlands 439-9824 Family run since 1949. Delicious homemade ice cream.  Food too. Make this a tradition for your family.
Lickety Split–589 Columbia Tpke., East Greenbush 477-9517. Soft serve. A little waxy for our taste, but the variety of flavors and the hometown feel make this a popular tradition for local families. The Funplex is attached to this which makes it a summertime destination.
Ben and Jerry's – 250 Lark Street, Albany 463-7182. Ben and Jerry's opened their first ice cream store in 1978 with the idea that a business could be fair to their workers, suppliers and the environment .In 2000 they sold the company to the multi-national giant Unilever with the promise the mission would remain the same. The ingredients and much of the idealism remains intact and you can still get really good ice cream there.
Carvel Ice Cream & Bakery– 594 New Loudon Rd. Latham, 785-4962. Carvel used to be the only place to get a soft, swirly cone of delicious ice cream.  After a million years, they are still making Fudgy the Whale and Cookie Puss ice cream cakes. It is, in a way, nice to still have something around that hasn't changed a bit.
Cold Stone Creamery– Stuyvesant Plaza 1475 Western Ave Albany 514-2003 Specializes in an ice cream that is midway between hard pack and soft serve.  Candy, nuts, and some flavorings are mixed in on a cold granite stone while you wait.  A little pricey, but very good quality.  All year round.